The LASA2024 International Film Festival invites directors, producers, and distributors of films about Latin America to submit their audiovisual productions. The LASA Film Festival will take place concurrently with the LASA2024 Congress under the theme "Reaction and Resistance: Imagining Possible Futures in the Americas", June 12-15, 2024, Bogota, Colombia.
Audiovisual proposals must be submitted between September 8 and November 15, 2023.
Film entries in all categories are free of charge and are open to worldwide feature, medium-length, and short productions. Special attention is given to the documentary genre in all its expressions.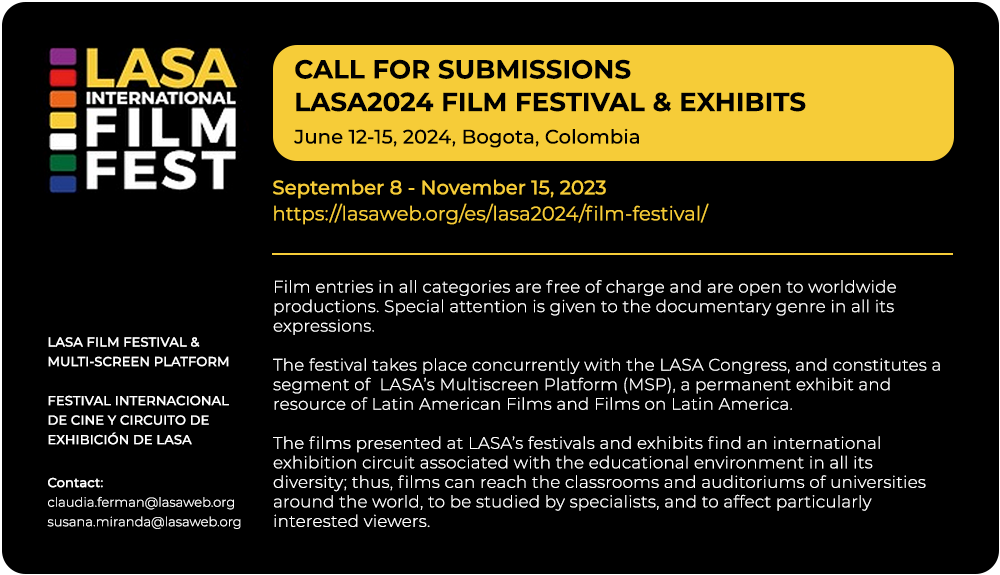 About LASA
The Latin American Studies Association (LASA) is the largest professional association in the world for individuals and institutions engaged in the study of Latin America. With over 13,000 members, over 60% of whom reside outside the United States, LASA is the one association that brings together experts on Latin America from all disciplines and diverse occupational endeavors, across the globe. LASA's mission is to foster intellectual discussion, research, and teaching on Latin America, the Caribbean, and its people throughout the Americas, promote the interests of its diverse membership, and encourage civic engagement through network building and public debate.
If you wish to interview a LASA Executive Council member, you can contact the LASA communications office at (412) 648-7929 or send an email to lasa@lasaweb.org.