UC Press publishes an award-winning interdisciplinary program in Latin American Studies. Our authors come from many fields, including history, anthropology, sociology, art, geography, and beyond. As a publisher, UC Press has an explicit progressive mission best reflected in the work of our authors and books. From the fight for environmental justice, to the ways young activists are organizing and reshaping politics, to the pursuit of a more just immigration system, our new books in Latin American Studies address some of the most critical issues facing the Americas today.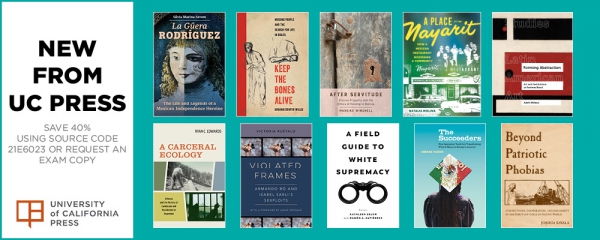 UC Press Journals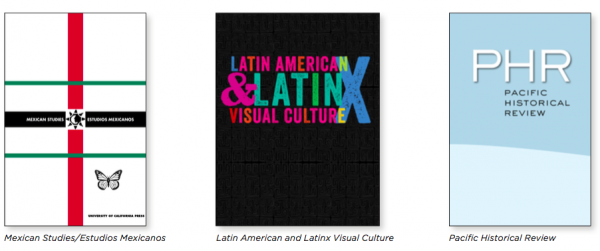 Visit https://online.ucpress.edu/journals to explore UC Press journals, including Mexican Studies/Estudios Mexicanos, a bilingual, international scholarly journal dedicated to providing a unique and essential forum for the dissemination of cutting-edge research relating to Mexico, broadly defined; Latin American and Latinx Visual Culture, which is dedicated to publishing the most current international research on the visual culture of Mexico, Central America, South America, and the Caribbean, as well as that created in diaspora; Pacific Historical Review,which covers the rich history of the American West and the peoples and cultures of the Pacific world, including Asia, Latin America, and beyond; and Current History, the oldest publication devoted exclusively to international affairs published in the United States, which annually devotes its February issue exclusively to articles about Latin America.
Save 40% on all UC Press books. Enter promo code 21E6023 at checkout. 
---
---
---
---
---
---
---
---
---
---
---