INTERNATIONAL POLITICAL SCIENCE ASSOCIATION (IPSA)
The Voice of Political Science around the World
Welcome to IPSA's Virtual Booth!
We hope you will enjoy your visit and explore IPSA's upcoming academic events, activities and publications. We are delighted to offer 15% discount on IPSA membership during the LASA Congress. If you have any questions or need more information, join us during daily exhibition hours or get in touch to schedule a meeting.
IPSA, founded under the auspices of UNESCO in 1949, is an international scholarly association devoted to the advancement of political science throughout the world. IPSA has 61 national and regional association members, over 90 institutional and over 4,000 individual members.
BUENOS AIRES WELCOMES YOU TO THE 27th IPSA WORLD CONGRESS OF POLITICAL SCIENCE!

The IPSA World Congress of Political Science provides IPSA members with a one-of-a-kind opportunity to network with global scholars and experts.

Stay Tuned for the Call for Proposals to Open Soon!

The IPSA World Congress will have a diverse program under the theme Politics in the Age of Transboundary Crises: Vulnerability and Resilience in an Uncertain World. Over 2,800 delegates from over 80 countries are expected to attend.

Don't miss this opportunity to present your research on the international stage and meet with prominent political scientists and scholars from various disciplines.

Find out more at ipsa.org/go/wc2023.

Sign up for the FREE monthly newsletter to keep up to date on the 2023 World Congress!

REGISTER FOR THE OPEN ACCESS PUBLISHING CONFERENCE

IPSA will hold a conference on Open-Access Publishing: A New Era in Scholarly Communication Conference in collaboration with Concordia University, the Konrad Adenauer Foundation and the American Political Science Association. The two-day international conference will take place onsite at Concordia University in Montreal, Canada, and virtually on 13-14 September 2022. The entire program will be streamed live through an online event platform for the virtual attendees.

Reduced Fee for IPSA and APSA Members

Registration is now open! IPSA and APSA members will benefit from a reduced registration fee to attend the conference.

Students can register FREE OF CHARGE.

IPSA SUMMER SCHOOLS
IPSA is deeply committed to its mission to promote the development of political science in all parts of the world. IPSA offers junior social science scholars access to high-quality, up-to-date, and advanced training in qualitative and quantitative social science methods by organizing summer schools worldwide.
IPSA currently offers seven summer schools. Please visit the Summer School page to get more information for each school.

IPSAMOOCs are FREE online courses authored by some of the most outstanding academics in the IPSA community. It is a joint project from IPSA and Federica WebLearning.
IPSAMOOCs are an essential tool for a wide number of learners: students who are considering or starting a degree in political science; professors and lecturers at any level, who can innovatively complement their existing courses; and anyone interested in a better understanding of the challenges facing contemporary democracies.
IPSAMOOCs are available in English and Spanish.
IPSA Publications
---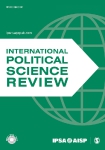 International Political Science Review
Authors: Edited by Theresa Reidy & Daniel Stockemer
Language: English
Book Webpage: Click here
---

International Political Science Abstracts
Authors: Edited by Paul Godt & Stephen Sawyer
Language: English / Français
Book Webpage: Click here
---

International Encyclopedia of Political Science
Authors: Edited by Bertrand Badie, Dirk Berg-Schlosser & Leonardo Morlino
Language: English
Book Webpage: Click here
---

IPSA Triennial Report 2019-2021
Authors: IPSA Secretariat
Language: English
Book Webpage: Click here
---

IPSA Monthly Newsletter (FREE!)
Authors: IPSA Secretariat
Language: English
Book Webpage: Click here
---
<< prev - page 1 of 1 - next >>