UC Press publishes an award-winning interdisciplinary program in Latin American Studies. Our authors come from many fields, including history, anthropology, sociology, art, geography, and beyond. As a publisher, UC Press has an explicit progressive mission best reflected in the work of our authors and books. From the fight for environmental justice, to the ways young activists are organizing and reshaping politics, to the pursuit of a more just immigration system, our new books in Latin American Studies address some of the most critical issues facing the Americas today.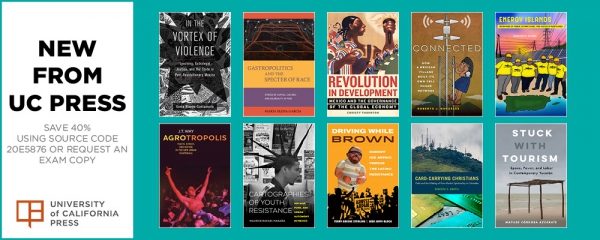 Latin American History
UC Press offers a celebrated collection of books in colonial and modern Latin American history. New releases include J.T. Way's Agrotropolis: Youth, Street, and Nation in the New Urban Guatemala, William Taylor's Fugitive Freedom: The Improbable Lives of Two Impostors in Late Colonial Mexico, Christy Thonton's Revolution in Development: Mexico and the Governance of the Global Economy, and Kristin Wintersteen's The Fishmeal Revolution: The Industrialization of the Humboldt Current Ecosystem. Kris Lane's Potosí is now available in paperback.
​In June, we will publish ​Corinna Zeltsman​'s ​Ink under the Fingernails: Printing Politics in Nineteenth-Century Mexico​ and ​Joshua Frens-String's Hungry for Revolution: The Politics of Food and the Making of Modern Chile​.​ Our Fall season, now available for preorder, includes books from Siliva Arrom, Sarah Hines, and Ryan Edwards.
A touchstone of the list is our Violence in Latin American History series, edited by Pablo Piccato, Federico Finchelstein, and Paul Gillingham. Its most recent book is Gema Kloppe-Santamaría's In the Vortex of Violence: Lynching, Extralegal Justice, and the State in Post-Revolutionary Mexico.
We're thrilled to announce that Jessica Graham's Shifting the Meaning of Democracy: Race, Politics, and Culture in the United States and Brazil is the winner of two 2021 LASA prizes--the Bryce Wood Book Award and the Luciano Tomassini Latin American International Relations Book Award!
Anthropology of Latin America
Our longstanding anthropology program is home to rich ethnographic and theoretically sophisticated books. Recent titles include María Elena García​'s​ Gastropolitics and the Specter of Race: Stories of Capital, Culture, and Coloniality in Peru​, ​Rebecca Bartel​'s ​Card-Carrying Christians: Debt and the Making of Free Market Spirituality in Colombia, Roberto J. González's Connected: How a Mexican Village Built Its Own Cell Phone Network, Maurice Rafael Magaña's Cartographies of Youth Resistance: Hip-Hop, Punk, and Urban Autonomy in Mexico, and Matilde Córdoba Azcárate's Stuck with Tourism: Space, Power, and Labor in Contemporary Yucatan. Greg Beckett's There is No More Haiti is now available in paperback. Gordon Whittaker​'s ​Deciphering Aztec Hieroglyphs​ introduces Nahuatl writing to general audiences.
Latinx Studies
Our extensive program in Latinx Studies includes a strong focus in sociology and history, covering topics including immigration, border studies, social justice, race, labor, culture and politics. New titles include Terry Greene Sterling ​and Jude Joffe-Block​'s​ Driving While Brown​: ​Sheriff Joe Arpaio versus the Latino Resistance​, Emine Fidan Elcioglu​'s ​Divided by the Wall​: ​Progressive and Conservative Immigration Politics at the U.S.-Mexico Border​, and Raul Hinojosa-Ojeda​ and​ Edward Telles​'s​ The Trump Paradox: Migration, Trade, and Racial Politics in US-Mexico Integration. Many of our Latinx history is part of the American Crossroads series, home to Catherine S. Ramírez​'s ​Assimilation: An Alternative History and ​George Sánchez's ​Boyle Heights: How a Los Angeles Neighborhood Became the Future of American Democracy. 
In June, we will publish Catalina M de Onís's Energy Islands: Metaphors of Power, Extractivism, and Justice in Puerto Rico. Our Fall list, now available for preorder, includes Andrea Flores's ​The Succeeders: How Immigrant Youth Are Transforming What It Means to Belong in America.​​​
Also, we're thrilled to share that Marisol LeBrón's Policing Life and Death: Race, Violence, and Resistance in Puerto Rico is an honorable mention for LASA's 2021 Latino/a Section Outstanding Book Award.
Latin American Art, Music, and Film
UC Press has an extensive backlist of titles on the cultural art forms of Latin America. New highlights include Juan Sebastián Ospina León's Struggles for Recognition: Melodrama and Visibility in Latin American Silent Film, as well as the books in our new series Studies on Latin American Art, which includes Kaira M. Cabañas​'s ​Immanent Vitalities: Meaning and Materiality in Modern and Contemporary Art.
UC Press Journals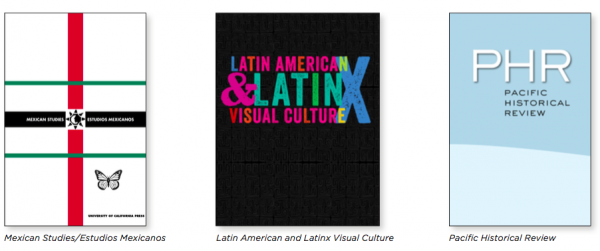 Visit https://online.ucpress.edu/journals to explore UC Press journals, including Mexican Studies/Estudios Mexicanos, a bilingual, international scholarly journal dedicated to providing a unique and essential forum for the dissemination of cutting-edge research relating to Mexico, broadly defined; Latin American and Latinx Visual Culture, which is dedicated to publishing the most current international research on the visual culture of Mexico, Central America, South America, and the Caribbean, as well as that created in diaspora; Pacific Historical Review,which covers the rich history of the American West and the peoples and cultures of the Pacific world, including Asia, Latin America, and beyond; and Current History, the oldest publication devoted exclusively to international affairs published in the United States, which annually devotes its February issue exclusively to articles about Latin America.
Save 40% on all UC Press books. Enter promo code 20E5876 at checkout.
---
---
---
---
---
---
---
---
---
---
---